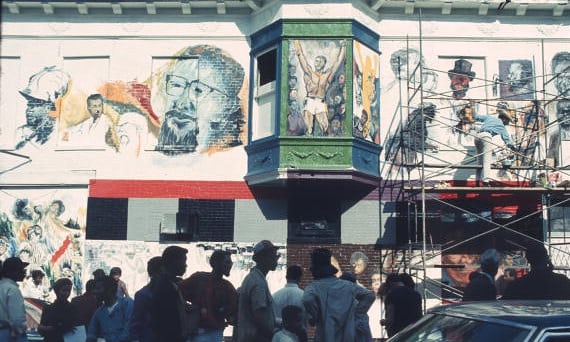 In 1967, the Wall of Respect became a visual symbol of Black Nationalism and Liberation that continues to inspire and encourage images makers all over the world.

The "Wall of Respect" was a revolutionary mural created in 1967 by members of the Organization of Black American Culture (OBAC) on the South Side of Chicago. These artists along with the support and encouragement of the community, photographers, musicians, poets, writers, actors, dancers and everyone else, created a monumental activist aesthetic statement of long-lasting importance; which mirrored works in the public space by artists such as Diego Rivera, José Clemente Orozco, Alfredo Ramos Martínez, Hale Woodruff and John Biggers.
Located in Chicago's Bronzeville neighborhood at 43rd and Langley Streets, it became a nucleus of aesthetic, social and political dialogue among all assembled during the fabrication of the mural.Inspired by the history of power, creativity, and strength present in the black communities that populated Bronzeville and American society at large, the figures depicted Elijah Muhammad, Muhammad Ali, Malcolm X, DuBois, Charlie Parker, Marcus Garvey, Cicely Tyson, Bill Russell H. RAP Brown.

The "Wall of Respect" in many ways ushered in the integration of social practice and placemaking within the design, development, and final product of mural art in the public realm. The site became a "school", a "theater", a "concert hall", and a "sacred" space for community engagements of music by members of the Art Ensemble of Chicago, poets and various other cultural activists. Furthermore, it became a worldwide inspiration for artists and communities to communicate their feelings and thoughts about not only their heroes/sheroes, but all matters they wished to express in large bold frontality.